Best Reasons To Choose Custom T-Shirts For Corporate Events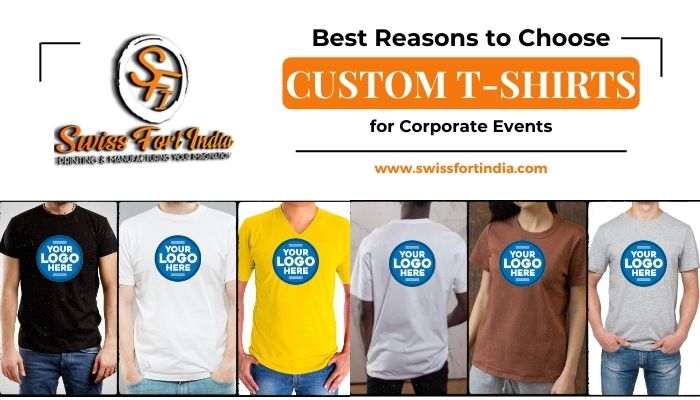 Most people feel comfortable wearing T-shirts. They are present in everyone's wardrobe and give a comfortable and casual look. Customized t-shirts are favourite apparel suitable for people of all age groups.
Custom T-shirts offer a way of promotion. Small and big companies, who are always looking for new marketing strategies, prefer custom T-shirts as promotional garments as the best way to promote a business. Several small and big companies have opted for promotional t-shirts in Jaipur as they leave an unforgettable impression on the clients.
1. Customized T-shirts Promote a Brand and Increase Brand Awareness.


A custom T-shirt with the name and logo of the company is an efficient marketing tool that works all the time. The employees will also love flaunting their company with style with the help of these t-shirts. The employees wearing these t-shirts will help promote the brand even during non-working hours. When the customers get these t-shirts as a gift, they will enhance brand awareness.
2. Custom T-shirts Require Bulk Production, Which is Easy.


For all employees to wear T-shirts with the brand name and logo, multiple t-shirts need to be produced.
With the help of DTG printing of T-shirts, bulk production of custom T-shirts become easy. They can easily be processed and delivered quickly to get your bulk. This advantage of bulk production of t-shirts is why several companies opt for custom-printed t-shirts as a preferred medium for brand promotion.
If your business is based in Jaipur, look for a reliable t-shirt printer in Jaipur for bulk production of custom T-shirts.
3. Custom T-shirts offer the Most Reasonable Way to Promote.


There are various ways a company can promote itself. It may use several marketing tools for its promotion.
The marketing tools like advertisements, newspapers, billboards and others require a lot of investment. However, custom T-shirts need investment only for one-time. It gives a way to maximize benefits and lower investment costs. Most businesses take advantage of these custom T-shirts because it requires little investment. The only investment will be in the manufacturing of these custom T-shirts.
4. Custom T-shirts Instill a Feeling of Unity amongst the Employees.
When the employees of a company wear custom T-shirts, it enhances the team spirit amongst them. These t-shirts can be like the uniform of the employees. They will foster a feeling of oneness among the employees. They will become confident and proud of their company. The employees will uphold the brand values and help in the effective promotion of the brand. It may lead to better bonds amongst the employees and better dedication towards work for the best of the company.
5. Custom T-shirts Offer Excellent Way to Connect to People of Different Age Groups.


Everyone in every age group is comfortable wearing a t-shirt. Companies may use custom t-shirts to reach out to people of different age groups leading to better brand promotion.
6. A Company may use Custom T-shirts to Promote its Products and Services.


Several companies use custom T-shirts as giveaway items or gifts for customers. It will promote the brand and encourage the customers to buy products from the company. Customers will become inclined towards buying products from the company if they once had a good experience. Brands that host events can also sell their custom T-shirts at low prices to the participants. A company that is a shoe or school bag manufacturer may also choose to promote its brand through custom t-shirts.
Final words
Considering all the above benefits, you may hire a professional t-shirt supplier in Jaipur for corporate events. Make sure to verify the supplier before hiring.