Small Business Guide: Stand Out In The Crowd With Custom Printed T-Shirts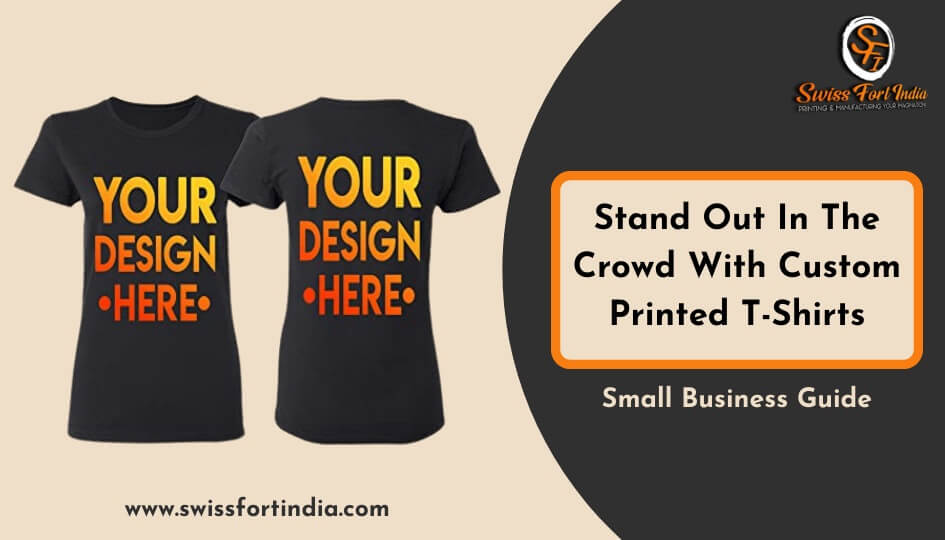 Small Businesses are experiencing wonderful growth in today's scenario. Be it a small startup that provides a unique solution or something as basic as an organic food store, and a small business could earn immense profits if presented and strategized well before starting one business that you think is trending or can become a trend. Also, there should be good profit margins in the Businesses. Also, last but not the least, you have to be particular about your target audience so that you can promote your product accordingly to gain more and more customers. When it comes to youngsters, clothing is something that they spend on without thinking. But there are many clothing brands out there. What can you do which is unique in this industry? It's heading ahead with Custom t-shirt printing. Yes, you heard me right! T-shirts are something that people of almost all age groups prefer to wear, and it is gender-neutral. When you make this go-to outfit stylish and customizable for them, then what could be better than this?
Why Custom T-shirt printing is in trend
T-shirts are, anyways, very common top wear for men, women and children. Custom t-shirts printing adds to your regular t-shirts and gives them a quirky look that is super unique. Most of us have our personal quotes that we use every other day, or we love saying it. What if we could get it printed on our t-shirts? Sounds cool, right? These customized t-shirts could be found in different patterns and designs. The Customize t-shirt manufacturers keep experimenting with the methods and colors to make the concept even more interesting.
Look different & Quirky.
Customize t-shirts make you stand out in a crowd as your t-shirt appears to be unique. As a brand makes several copies of a single t-shirt, there are chances of two people in a group wearing the same t-shirt, but this is not the case with the customized ones. There are no chances of getting the prints repeated. You can make your t-shirt look just the way you want. You can get any funny quote written on it, or it could even be the dialogue of a movie. You can also take some ideas from the Customize t-shirt manufacturers as they have a lot of patterns and ideas with them.
Promote your brand with Customized t-shirts
Customized t-shirts can be the best and subtle way to promote your brand. When people wear the t-shirts with your brand name on them, your brand will never be forgotten. Also, you can make your teammates and employees wear these t-shirts, as they are the faces of the company and hence this Customized t-shirt will make them more presentable. Make sure you buy a good quality fabric so that the t-shirts don't get worn out easily. There are many Promotional t-shirts manufacturer in Jaipur who specially deals in this segment. Also, if you want to get t-shirts printed in a huge quantity, buy plain t-shirts from any T-shirt manufacturing company in Jaipur in wholesale, and get them published, it might cost you very little as compared to the other way.
Share personalized gifts
With the custom printed t-shirts, you can share personalized gifts with your near and dear ones on a special occasion. There is a T-shirt Printer in Jaipur who is specialized in customized t-shirts with pictures or messages. This kind of T-shirt printing in Jaipur is becoming more and trendier as people now prefer to gift each other personalized stuff that could be cherished throughout life.
Above mentioned variety of uses of Custom Printed T-shirts are enough to showcase the number of craze people has for custom printed t-shirts and how it is becoming everybody's favorite as it makes you stand out in a crowd. So, if you are also planning to start a new business, nothing could be better than t-shirt printing in Jaipur. So, don't waste your time. Find a T-shirt Printer in Jaipur and start your business today.