Simple Steps For Choosing The Best T-shirt Printing Company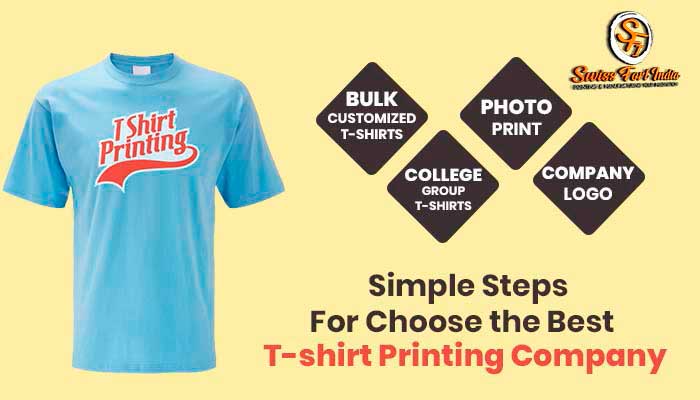 Are you planning to support your college football team in the inter-state sports tournament? How about showing up in a matching jersey with funky name tags or a printed team slogan? But the idea sounds a little troublesome. Finding a T-shirt printer in Jaipur that can work on bulky orders in minimum time is quite tricky. But nothing can drag down your enthusiasm once you decide to make something work! Because the good news is that now you don't have to wander around every street searching for a manufacturer for
t-shirt printing
in Jaipur.
Every one of us has faced those times when we can't find the suitable print on the T-shirt of our size and color choice in the market. But with the best T-shirt manufacturing company, you will have to look no further. Like the idea? Unfortunately, we are not the first to come up with this idea, and maybe you have also come across someone wearing these customized T-shirts that went unnoticed by you. But we have the best t-shirt printing manufacturer and Swiss Fort India sorted out for all your customized demands.
Shop Online- A Simple Step to Choose the Best T-shirt Printing Company
Indeed, it makes sense to search online for the best custom t-shirt printing company to get your customized t-shirts with creative designs. When you search around, you will find Swiss Fort India as one of the trusted hubs to get your t-shirt printed.
You may wonder why you choose Swiss Fort India to get a Customize t-shirt In Jaipur. The reason is its t-shirts are helpful for many purposes, and you can count on them for:
Promoting Your Business
With ever-growing marketing techniques to increase the awareness of your brand, buying a customized tee from a T-shirt manufacturer in Jaipur and distributing them among the public in a giveaway or marketing campaign will work to spread the word about your business fast. Designing T-shirts with appealing colors and quality fabric will attract viewers and effectively reach hundreds of people in a short duration.

To Spread Mass Awareness
Have you ever come across a Nukkad-Natak or any other street act? Noticed how a group of people acted enthusiastically, wearing the same printed t-shirts. If you think they must have bought the same kind of T-shirts from a store, you may be completely wrong. You can always place a bulk order for customized T-shirt printing in Jaipur and attract more crowds. Printing slogans such as saving water or donating blood helps to create more awareness among people.

Defining the Brand's Identity
We are keen on identifying a brand from its logo, color, or tagline. Asking your staff to wear similar t-shirts designed by a customized T-shirt manufacturer during their working hours will help represent the brand. Just order your brand's customized T-shirts for the employees from the best t-shirt printer and let the people identify your company's staff from far away! Moreover, it will attract public attention and unite the employees under one company umbrella. So, what are you waiting for? Rush to the nearest manufacturer for T-shirt printing in Jaipur and boost your company's popularity.

For Social Cause
With NGOs or any other government organization working for a social cause, their prime concern is to spread the word across a larger population. Offering people to wear customized t-shirts during ad campaigns or stage acts on a social stigma will spread the word, not just to the public present at the venue but will grab the attention of a much wider crowd. Moreover, wearing customized t-shirts with a social message printed by the t-shirt printer will give people a sense of responsibility, and they will feel proud to wear those T-shirts in public.

To Gift To Your Loved Ones
Just like a couple of mugs and customized birthday goodies, these kinds of printed stuff never go outdated when you want to offer someone special as a gift. If you are a newlywed couple planning your honeymoon destination, these couple T-shirts are a must-pack in your suitcase. Fortunately, you can order your customized t-shirts at wholesale price at Swiss Fort India anytime.
Final words
If you are a fashionista, then you can't just afford to count on the best custom bulk T-shirt printing in Jaipur, India. Take a simple step and connect with the best T-shirt printer in Jaipur to get your customized tees.